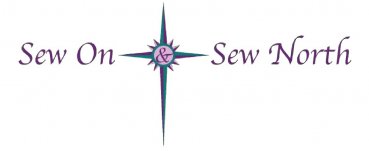 September 2019 Newsletter
So, I know it's not quite September as I write this, but it's close. It sure feels like September with fall in the air! I would say it's time to break out my pumpkin spice, but I'm not quite ready for that yet. We have a FUN fall planned for you here at the shop!
First, Holiday hours for this Labor Day weekend: Saturday, August 31 we will be OPEN 10am-2pm, and Monday September 2 we will be CLOSED.
Please also remember that we CLOSE at 4:00pm on Wednesdays, and on Fridays we might open a few minutes later than 10:00am. Please be patient with us!
We have LOTS of NEW fabrics to tempt you with!
What's NEW
Check out our website: www.sewonsewnorth.com or come see us in person.
The VALLEY SHOP HOP starts next Saturday, Sept. 7.

Pick up your passport and FREE pattern at the first shop. At each shop on the hop, you'll get a free fat quarter. Each shop will also have snacks, a recipe, and a bonus buy! Visit all seven shops from September 7-14, 2019 and receive a six pack of fat quarters when you turn in your passport. There will be discounts at each shop as well(10%, 15%, or 20%. Each shop will have a different method to decide your discount!


Hours will be 9:00am-5:30pm during the shop hop- everyday except CLOSED Sunday, Sept. 8.
We have made 3 versions of the FREE pattern and have fat 1/4 bundles made up of each for you to pick up as well.
SERIAL QUILTER RETREAT
We still have room for a few to join us!
Don't wait to register. After Sept. 20, 2019 the price goes up by $5.
Link to Register
The retreat is October 4 & 5, 2019
We will start Friday at 10:00am.
Location: Emmanuel Evangelical Church in Langdon.
Cost is $60 for both days.
We provide Friday supper, Saturday lunch, and Saturday supper.
We will have a gift bag for you, prizes, a game, and demos.
There is a snack table, and we will set up the Keurig as well again!
Plus many chances to go shop at the store!
We do not have overnight accommodations. You can book at either Langdon Motor Inn or the Cobblestone.




We also have a "Girl's Night Out" mini-retreat scheduled for November 2, 2019 from 5:00pm-11:00pm.
It will be held at the NDSU research center in Langdon.
Here is the link to register:
Girls Night Out



This is not a "normal" class. We won't be teaching a project that everyone works on. You will bring your own project to do while you socialize with friends!




We will probably have some demos to watch, some games to play, and some PRIZES! We will be having pizza and snacks!




We will be playing music, or maybe even put a movie on the big screen.




This is for beginners to experienced quilters! Heck, come in your jammies if you'd like.....




We will allow kids to come and sew but they must be registered and paid for, and they must be with an adult!


This event will be held at the NDSU research center in Langdon.

We have some other classes as well:


Braided Twist Runner Class
We have openings in the 2 session Monday evening class:
Sept. 16 & 23, 2019 6:30-8:30pm
Cost is $40 + tax and the book/template are included. Fabric is extra.
The Sunday class sold out, but I will offer it again on a Sunday (maybe in October).
Register Here
We will use the Braided Twist book and ruler to make a runner like the ones shown. The runner will have 2 fabrics for the front and a single fabric as the backing.



Fraternal Twins Runner Class

Wednesdays (2 sessions) Sept. 18 & Sept. 25, 2019
6:30-8:00pm (maybe 8:30pm)
Cost is $13.50 + tax and includes pattern.
Other needed supplies are extra.

Register Here
Make 2 runners with pattern and fabrics for one! We will meet 2 times to hopefully complete both of our runners. You will be required to purchase the pattern for class. The Half Square 4-in-1 ruler is also suggested for use on this project.

Last but NOT least:
National Sew A Jelly Roll Day!
Saturday, Sept. 21, 2019

I will be sharing more information about the events for this day later, but MARK your calendars NOW! You'll want to join in the FUN!
Read about why we do Project Jelly Roll below the image.


National Sew A Jelly Roll Day celebrates quilters of every generation and skill level with event.
If you're a quilter, you collect fabric. You may also collect "pre-cuts", those tempting packages of many pieces of fabric already cut for you into charming sizes. They're so popular, there is even a special lingo associated with them – layer cakes and dessert rolls, honey buns and jelly rolls.
Recent studies have shown that many quilters collect these pre-cuts without knowing what to do with them, without having a purpose. The Jelly Roll in particular is left in it's original packaging and stacked on the shelf to gather dust. Despite a huge resource of inspiration, many quilters report that they're waiting for a special reason to break out the Jelly Roll and use it for a project.
That's where Project Jelly Roll and the National Sew A Jelly Roll Day come in. We're designating the 3rd Saturday in September of every year as National Sew A Jelly Roll Day to encourage collectors to tear open a Moda Jelly Roll and make something for themselves, as a gift or for charity! It can be a quilt or a tote bag, a pillowcase or something to wear, it doesn't matter so long as we seize the day and celebrate the joy of being a maker.